We ensure businesses stay open and people stay safe
by providing the world's leading, 'always on', low cost, airborne sanitising technology
Are Current Cleaning Practices good enough?
The current cleaning practices are based on the disproved theory that COVID-19 and other viruses are only spread through 'human' or 'surface' contact. 
Environment sanitising is point in time, manpower-intensive, surface only cleaning using toxic chemicals, that is not financially viable for any period of time.
The World Health Organisation has confirmed that COVID-19 is airborne and contact spread; they also estimated a 'four- to five-year time frame' to get COVID-19 under control. As such, the need to sanitise an environment is a long-term, 24/7 necessity and must address the airborne threat.
CORONAVIRUS SPREADs FuRTHER THAN 6 FEET as TINY AIRBORNE PARTICLES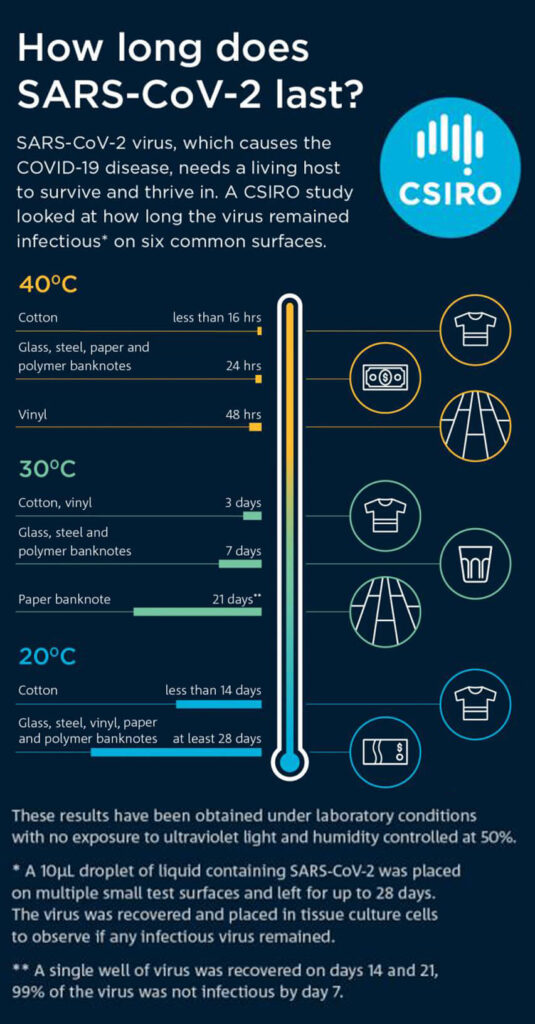 COVID-19 remains active after 28 days
The rate at which COVID-19 has spread throughout the globe has been alarming. While the role of transmission through objects or materials which are likely to carry infection, is not yet fully understood, precise data on the environmental stability of SARS-CoV-2 is required to determine the risks of transmission from contaminated surfaces. Australia's national science agency, Commonwealth Scientific and Industrial Research Organisation (CSIRO), carried out a study to determine the effect of temperature on persistence of SARS-CoV-2 on common surfaces.
The findings demonstrate SARS-CoV-2 can remain infectious for significantly longer time periods than generally considered possible.
These results could be used to inform improved risk mitigation procedures to prevent the fomite spread of COVID-19.
Infectious SARS-CoV-2 virus was still detectable after 28 days post inoculation, for all non-porous surfaces tested – glass, polymer note, stainless steel, vinyl and paper bank notes.
eco pure room is "always-on" and CONTINUALLY sanitises the air in your environment killing airborne viruses and bacteria on contact
99.6% improvement when compared to current wipe-clean & sanitising practices
Equal Strategy has been working with this proven, highly reliable technology for 20 years. When used with our patented sanitizer, recent tests delivered a 99.6% improvement when compared to current wipe-clean & sanitising practices.
Equal Strategy has teamed up with global thought leaders to create a safe, quick-to-deploy, low cost ($295 a month), always on, Surface and Air sanitiser.
We use proven 'micro-mist' technology that uses an N.E.A. / U.S.A. EPA approved, 'food-and-drink-safe' sanitiser that radically improves safety levels within an environment, all day long.
As this is a technology-based solution with a fixed & low monthly cost, you also provide immediate & significant costs savings whilst delivering a much safer environment.
Ensure your business stays open and people keep safe.
Creating and maintaining a continually safe & sanitised environment 24x7
Eco Pure Room – Airborne Sanitiser works by diffusing an eco friendly,  safe and odour free dry vapour, made up of ultra-small hospital grade sanitiser particles (approximately 1 micrometre (1um) in diameter).
By achieving the desired Eco Pure Room 'air saturation intensity' in the target area, the floating airborne particles , kill virus and bacteria microbes within seconds of contact.
Eco Pure Room alters certain amino acids that contain sulphur, which are important building blocks in the proteins that help to form cell walls.  When these proteins are destroyed, the cell wall ruptures, exposing the internals to air, and causes the organism to oxidise and die. 
Technically speaking, in the chemical reaction, Eco Pure Room takes on an electron from the amino acid and reverts back to a chlorite ion.  The amino acid gives up an electron, which causes oxidation. This means Eco Pure Room is 2.6 times more effective than alternatives Chlorine and Oxychlorin
20 Jun 2021, 7:14 AM (GMT)
Start using ECo Pure Room - Airborne sanitiser
1.  Calculate the floor area and ceiling height of your environment to determine the required air volume saturation.
2.  Request installation, or shipping of the pre programmed device for complete automation. (Includes training & full remote support).
3.  Plug in the unit to power up, and enjoy a safe and protected 'clinical' grade environment.
4.  Place the sticker provided on your entrance to inform visitors your premises are protected.
5.  Refill the device as required with the refill supplies delivered to your door.
Keep your business open and people safe
eco pure room - airborne sanitiser Creates and maintains a continually safe and sanitised environment 24x7